Preparing for after Raqqa: Jordanian anti-terrorism strategy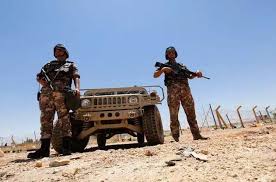 As the battle to liberate Raqqa inches closer, the growing instability in the south of Syria underlines the need for Jordan to prepare for the consequences. One of those consequences is likely to be Daesh falling back to the border regions to regroup and rebase. Jordan must avoid this outcome as any Daesh presence on the border represents a clear threat to Jordan.
There is no apparent strategy for protecting the south amongst allies. The US presence is currently focused on Raqqa and the surrounding areas with the objective of stabilization in the first stage. However, the unintended consequences of this renewed presence could be a new wave of escalation. Any such result will have a direct impact on the security of Jordan's borders.
Jordan currently faces multidimensional risks. The conflict in Syria and Iraq are a real threat the border regions. Jordan is in the middle of the global red zone of terrorism. However, Jordan's security establishment must also keep in mind that the threats are also internal.
There are, undoubtedly, multiple dormant terrorist cells in Jordan. The threat of these cells greatly increases as Daesh is routed. Dormant cells will activate to prove that the terrorist organization is still operating, capable of successful attacks and expanding its territory. We will see a transformation in Daesh to a more decentralized model as its assets and people are isolated and separated.
It is important to understand the recent US strike in Syria as political rather than operational. The target, location, style of attack and the fact they informed the Russians of the attack demonstrate the US was sending a message regarding its new position in Syria. Direct military action from the US represents a significant change in their role in and the nature of the conflict itself. US allies, including Jordan must be mindful of this development and respond accordingly.
Jordan's focus should be to prevent border attacks and maintain stability in the border regions. We need greater cooperation between our intelligence and military and a strategy that uses local proxies to fight ISIS on Syrian soil avoiding unilateral troops on the ground.
While we may not be seeing sophisticated attacks in Jordan, traditional and disjointed insurgency still presents a threat. We must enhance the capacity of our security forces and dedicate greater effort to secure sensitive areas and inhibit the growth of local terrorists.