Regional challenges facing Russia and Iran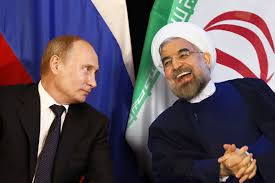 With President Trump's announcement that the US is withdrawing from the nuclear agreement, the pressure on Iran and its activities in the region is increasing. This is seen most clearly in Syria as recent Israeli raids have been targeted at confirming the Iranian presence and thereby legitimizing Israel's concerns and fears. This pressure is likely to increase as the potential of sanctions combined with confirmation of Iran's regional activities are used to leverage Iran and those countries advocating remaining in the current agreement.
Clearly the US strategy is to contain Iran's regional influence across Iraq, Syria and Lebanon. On the one hand, Hezbollah, Iran's strong ally in Lebanon appears to have achieved a victory in recent elections. On the other, Moqtada al-Sadr who was sidelined by the Iranians and is now much closer to the Saudis after his recent visit there and to UAE is leading in Iraq's parliamentary election with more than half the votes counted. Meanwhile, Hadi al-Amiri's group, which is backed by Iran, was coming in second and Prime Minister Abbadi who prefers to maintain a neutral position between the US and Iran is coming third. Politically at least, the election results in Iraq suggest that Iranian influence in Iraq is waning. While it is not a rebellion against Iranian influence, there is a clear message being sent. 
Syria remains the most important ground where the US is seeking to weaken the Iranian influence and presence. Interestingly, an Iranian presence in Syria is unlikely to be long term as Syria is predominately secular and culturally different. Iran is a conflict ally rather than a cultural partner. In fact, Syria is more likely to be influenced by the eastern sensibilities of Russia, potentially putting Iran and Russia in competition for political and cultural influence in Syria in order to position for the economic opportunities around rebuilding post-conflict Syria. 
While Iranian propaganda is conflict-based with a focus on the elimination of Israel, Russia has a completely different approach as an ally to Syria and Iran as well as a very good friend to Israel. Russia is very well positioned to play the role of mediator between Iran and Israel, and its interests in ending the conflict in Syria are aligned with regional stability rather than a regional war. Yet, the Iranian presence in south of Syria might also be another challenging issue for Russia.
The international pressure on Iran makes it difficult for Russia to maintain an alliance with a country that has political and economic issues at the scale that Iran does. With the Americans working towards a peace with the Palestinians and opening channels between Israel and Arab countries, Syria is key to this as Israel sees it as key to its security. This makes Syria the key to regional peace, and bringing Israelis and Syrians to the table is no longer the impossibility it used to be when previous attempts at this peace have been made. 
Again this positions Russia as a mediator and cobbling a path towards regional peace rather than the US exclusively playing this role. While this increases the likelihood of settlement in Syria, it will increase the pressure on Iran, both economically and politically. Iran may adjust its policies in order to avoid the inevitable pressure that will build, as even those who support the Iranian nuclear deal, and are in favor of increasing economic cooperation with Iran might not be able to support Iran if Tehran doesn't make a change to its policies, actions and rhetoric.