Regional challenges and Jordan's internal stability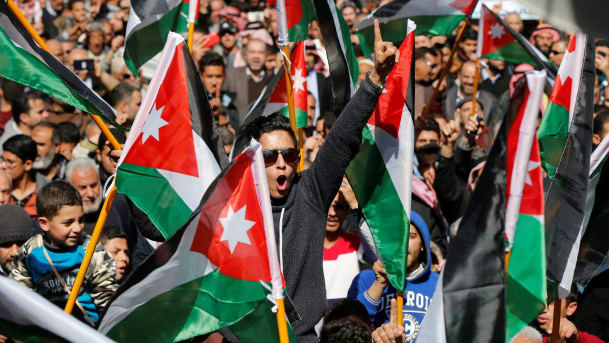 All the economic indicators suggest that Jordan is facing a critical moment, and the recent financial measures taken by the government are creating widespread anger amongst Jordanians.  
While economic hardship is a serious issue, decision makers also need to keep in mind the delicate regional situation and the potential implications for Jordan. Internal stability should be the major priority of Jordanian policymakers as social disorder could create fertile ground for serious security risks including organized crime and terrorist groups, which could threaten internal security and stability.
Given the regional crisis, it is critical to ensure that government policy does not disenfranchise people and foster anti-state sentiment. Regional criminal and terrorist groups manipulate marginalized groups and the fringes of society. Policies that create tension and alienation will create a larger pool of people for these groups to recruit from and destabilize internal security. 
Jordan is clearly facing serious challenges at the regional political level, with the peace process and its implications for Jordan with the potential for some options to be imposed on Jordan. This makes it critical for Jordan to focus on borders, refugees and security. This is particularly important with the Trump administration's position to recognize Jerusalem as the capital of Israel. 
Syria is another ongoing challenge for Jordan, with the south of Syria likely to be the center of the future conflicts that could take a regional dimension.  Jordan should start thinking of how to make use of its geographic borders to benefit economically from the rebuilding process of Syria. This requires political flexibility from the Jordanians to achieve this objective.
Jordan's economic problems cannot be solved with higher taxation and increasing prices for the people. Jordanians have been facing these hardships for many years, and the frustration is driven by a long period of inefficient and ineffective economic policies, combined with the lack of development in industry, that have not succeeded in improving their situation. Jordan needs a better plan for the distribution of its population, and this cannot happen without a balanced plan to develop new and existing industries across the country. At the moment, the entire south of the country with its wide spaces and wealth has less than 10% of the population living there. 
Large-scale projects in transportation, agriculture and other local industry are the pillars for any successful improvement. Jordanians are resilient and can weather economic hardship, but there must be a clear path to success and change. Without that there will be psychological impacts of helplessness, which might put Jordan's security and stability at risk.
The concentration of power in Amman, the failure to foster a national identity, the lack of a plan for industry development and the inefficiency in the de-radicalization process will drive division and separation. This failure to make people feel secure and in control of their livelihood will pushing them to look for smaller groups for security and comfort, whether it is tribal, geographic or religious. It will drive the sectarian and ethnic division that is the disease of our region today. We must therefore not underestimate the negative impact that certain policies could have on our country.