2018 : Pessimism beats optimism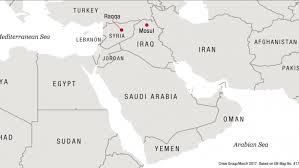 Many are hopeful that 2018 will be the year of resolution in the various conflicts and crises in the Middle East. There are indications, however, that we might just see the opposite on several fronts. Syria appears to be progressing well towards a political solution, but there are also signs of increasing chaos. Similarly, while 2017 saw the effective fall of ISIS, there are also indications of similar groups being established and taking its place.
We have seen the US providing weapons and training to the Kurds in the fight against ISIS, but this has continued even after the recapturing of the ISIS capital of Raqqa. This represents a risk of destabilization, as the Kurdish objective of independence will have much wider implications.
In the district of Daraa, in the south of Syria, the military capacities of some groups are increasing, as we see the potential for new terrorist groups who are attacking locals in the vacuum created by the fall of ISIS. Growing chaos could lead to factionalized and localized power bases amongst these groups, which increases the risk of dividing Syria as one of the likely resolutions.
Meanwhile, the impacts of the destabilization of Syria are no limited to its geographical borders. Turkey is facing serious challenges from the ambitions of Kurdish groups seeking political independence. This is likely to cause ongoing risk for Turkey's national security and could lead to a new wave of conflict in the region.
There is a similar risk from Kurdish ambitions in countries like Iran, which also has a large Kurdish population. Meanwhile, Tehran is currently trying to counter a US-Israel coalition seeking to isolate it further from the region to temper Iranian moves to build allies and influence in the Middle East. We are likely to see implications in Syria, Lebanon, Gaza and Iraq, and it could lead to new confrontations between Israel and Hezbollah.
There is also increased military confrontation in Yemen as it takes a new dimension. This will only enhance regional terrorist activity as destabilization provides fertile soil for terrorist groups to grow and establish bases for regional attacks.
The ongoing chaos in the Middle East does not appear to be coming to an end.
While some of the individual situations appear to be deescalating, it is difficult to be optimistic about the potential for enough stabilization that the region can focus on investing more in building better lives for its people.
Dr. Amer Al Sabaileh